Creativity
Creating is a beautiful way to quiet one's mind. To be able to engage in art making for relaxation and overall well-being, many of us must practice making peace with our inner critic and working on cultivating a positive mindset towards our art. Within the courses offered by Sálarlist, the primary objective is for individuals to learn how to maintain a profound connection with their creative essence through the practice of uncomplicated creative exercises and "doodling." With soulart/sálarlist we ceate to enjoy the process and for the many benefits for our soul, rather than the product.
The central aim of Sálarlist, also known as soulful art, is not to conform to conventional beauty standards, but rather to sustain the flame of creativity and draw nearer to the enriching and positive impacts that creativity can bestow upon our well-being. It is recommended that individuals learn to befriend their inner critic, enabling them to create with a tranquil state of mind and relish the process, which can be both healing and transformative.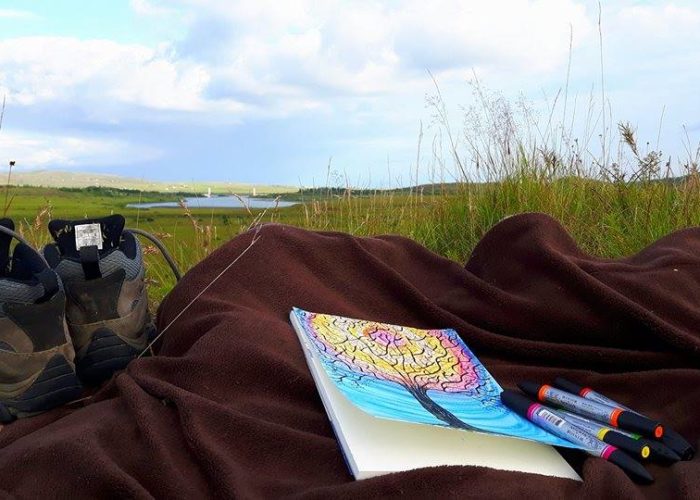 Paint for the process
Engaging in the process of painting rather than fixating solely on the end result offers you an opportunity to savor the act of creation at a profound level. By doing so, you release any need to create something practical, a masterpiece, or a tangible product. The sole intention is to immerse yourself in stillness alongside the hues on your canvas or art journal.
This approach signifies that there exists no demand for a grand outcome from your creative endeavors. Yet, what could be more enchanting than fostering tranquility, serenity, harmony, and elation within your own being through the act of artistic expression?
What is available?
Puplic speaking

In 2020, Kristín Berta established Sálarlist. Within this platform, she harmonizes her educational background across diverse fields with her passion for creativity. Within the domain of Sálarlist/ Soulful art, the focus is on creativity in the form of painting, drawin and journaling, meditation, and forging a connection with nature. Yet, it also encompasses the mastery of mindful living and the role of being a creator in one's own life.

Beneath the encompassing umbrella of soul art, Kristín Berta wears several hats. She not only operates as a clinical social worker and family therapist within her private practice, but she also takes on roles as a yoga nidra teacher, an artist, and an instructor in creative self-care and mindfulness. Moreover, Kristín Berta extends her expertise to companies and events, delivering lectures that delve into various facets of her knowledge and her personal journey with grief and its intricate processing.

Contact

Private practice

Kristín Berta is an experienced clinical social worker and family therapist who specializes in helping people with trauma, self-empowerment, and managing stress. She uses different methods like EMDR trauma work, creativity, and mindfulness, along with a family-focused approach when working with individuals. Kristín Berta has been working in social services, health, and child protection since 2006, bringing her wealth of experience to make a positive difference.

Kristín Berta has also offered a private yoga nidra deep relaxation session.

See more

Courses

Kristín Berta offers online courses, where the act of drawing, painting and journaling is designed to nourish the soul. Additionally, there is the option to request creative self-care interventions for the staff at your workplace. Through these interventions, Kristín Berta seamlessly blends talks on stress management and well-being, meditation, mindfulness, deep relaxation, and creativity.

Creative self-care, in essence, serves as a pathway to utilize creativity for a deeper self-understanding. It facilitates the exploration of one's inner landscape, recognition of emotions, and the discovery of channels for expression through creation. It further aids in fortifying intuition, practicing mindfulness through the act of creating for the joy of the process, relaxation and self fulfilment.

Contact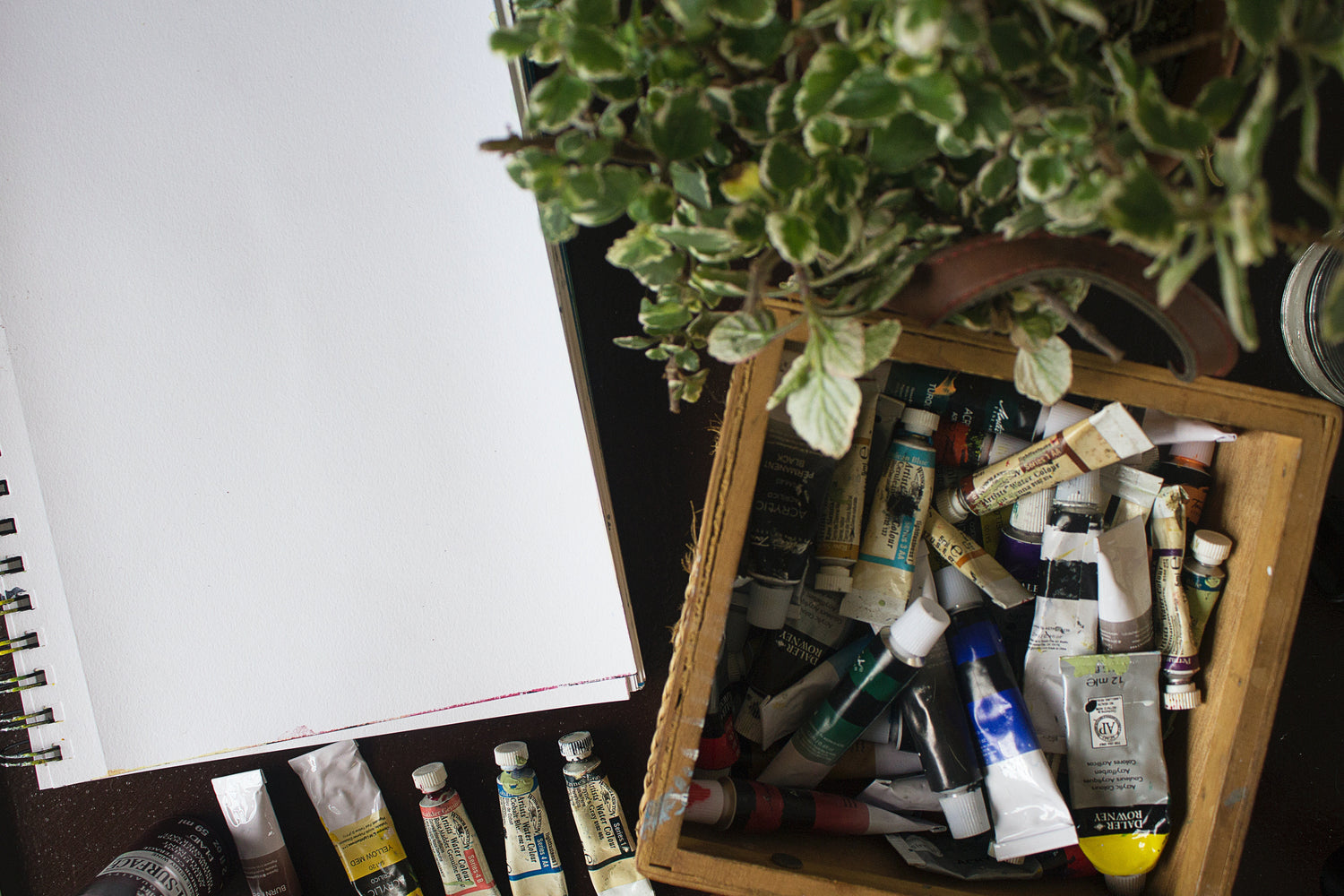 Online course in August 2023
"Painting for heart and soul" is the heart of all courses at Sálarlist. In this 5-week online course, you'll learn to ignite your creativity, play and paint for the process without the inner critic sitting on your shoulder. You watch the lessons in the course in the comfort of your own home, but you get the opportunity to follow others taking the course at the same time in a facebook group and meet Kristín Berta on a zoom chat with the group once a week after the first week. (ONLY IN ICELANDIC AT THE MOMENT)
Contact us if you want to be on the waiting list for the english version of this course
Umsagnir um netnámskeið
Námskeiðið "Málað fyrir hjarta og sál" gaf mér sjálfstraust og meiri trú á sjálfri mér.

Það sem stendur upp úr er þessi aðkoma að listinni sem gaf mér hugrekki og leyfi til að prufa ýmislegt sem ég hef ekki prufað áður. Námskeiðið gaf mér sjálfstraust og meiri trú á sjálfri mér og nú þykir mér vænt um þær stundir sem ég á með sjálfri mér og listagyðjunni minni.

-Svava Brooks
Trauma recovery coach

Ég datt niður á námskeiðið
"Málað fyrir hjarta og sál" á facebook.

Námskeiðið kom eins og himnasending inn í líf mitt. Einföld og skemmtileg verkefni sem maður getur tvinnað inn í daglega líf sitt. Ég fann hvað smá listsköpun daglega hjálpaði mér að vera frjó í hugsun og lausnamiðaðri. Það er ekkert eins mikilvægt og að gefa sjálfum sér tíma þó að það séu bara 5 mínútur á dag og þetta námskeið kenndi mér það.


-Rakel Mjöll Guðmundsdóttir -

Ég á erfitt með að koma því á blað hvað stórt hlutverk þú átt í líðan minni í dag meðan ég skapa. En í dag, þegar mér dettur eitthvað í hug (myndefni aðferð til að prófa, nýir litir) þá er það ekkert mál. Ekkert stress um útkomuna, engin hræðsla við að draga línurnar, því þetta snýst allan tímann um ánægju
mína á meðan athöfnin á sér stað.

- Elín Helgadóttir-
Reviews of in person courses
Rewarding and fun to have the opportunity to create a personal journal, fill it with dreams and intentions. Excellent! Warm and rewarding teaching. Namaste.

- Þóra Árnadóttir

A healing and nourishing course. An excellent and experienced teacher who communicated the material in a good way. Definitely recommend this course.

- Arna Björk Jónsdóttir, On-site course: Dream diary

The course was really educational and fun, as meditation and playing with paint were interwoven into two days of work. The group was led into a meditation where we were supposed to find our inner voice and what it has to tell us. For a square person like me who looks inward as rarely as I can get away with it, it was a little difficult but extremely healthy and made me think about what I am doing in life for myself and what I could add.

- Bergdís Björt Guðnadóttir, Local course: The inner voice

It was, in one word, a great weekend! Two weeks later I'm still thinking back and smiling. For me it was "Super food for the soul". It was a wonderful experience that I will live with for a long time. I love and am so proud of the painting I did during the course. All the symbols that came to me in the meditation with Kristína Berta are either on the surface or in other layers of the picture. Such a fun experience. Major fun weekend with great women. A true Superfood for the soul, I wouldn't have wanted to miss this.

- Sigrún Linda Karlsdóttir, Local course: The inner voice